CodeLand 2022 is a welcoming virtual conference for early-career coders and their champions, taking place on June 16 & 17. We're hard at work building an inspiring, practical, and inclusive program of talks, activities, and more.
CodeLand 2022 is produced by CodeNewbie and DEV, two software communities built on Forem.
Learn more about CodeLand here.
---
We're thrilled to announce our very first keynote speaker for CodeLand 2022: Angie Jones! 🎉
Many of you are likely familiar with Angie Jones through her consistent and passionate advocacy for the next generation of software engineers all over the internet and tech industry. You might have even connected with Angie on DEV or Twitter. Or maybe you heard her episode of the CodeNewbie Podcast all about the basics of test engineering?
If you're not familiar with Angie, you're probably gathering that she's a very inspiring leader in the tech industry and a wonderful fit for the CodeLand program.
Here's a little bit more about Angie Jones to help get you excited to hear her keynote at CodeLand 2022 🌈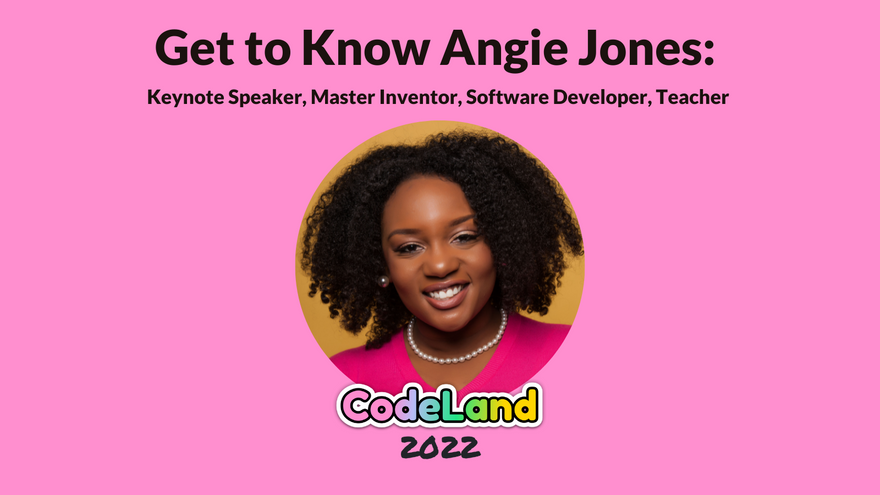 Pronouns: She/Her
Title: Global Vice President of Developer Relations @ Block
Based out of: New Orleans, Louisiana, U.S.A.
Bio: Angie Jones is the Global Vice President of Developer Relations for TBD54566975, Block's decentralized finance division. She is an award-winning teacher and international keynote speaker who shares her wealth of knowledge at software companies and conferences all over the world. As a Master Inventor, Angie is known for her innovative and out-of-the-box thinking style which has resulted in more than 25 patented inventions in the areas of metaverses, collaboration software, social networking, smarter planet, and software development processes.
Fun fact: "As a side project, I developed a fun fashion game, Diva Chix, played by hundreds of thousands of members!"
We're so excited to hear from Angie Jones at CodeLand 2022! Please join us in giving her a warm CodeNewbie welcome 🌈
---
What's next on the road to CodeLand 2022?
We will be announcing more talks from the community and opening up registration on April 26 — if you submitted a talk to our CFP, be sure to check your email then! More keynote announcements will be shared in the coming weeks. Stay tuned to CodeNewbie Community and @codelandconf on Twitter for news and updates. ✨