CodeLand 2022 is a welcoming virtual conference for early-career coders and their champions, taking place on June 16 & 17. We're hard at work building an inspiring, practical, and inclusive program of talks, activities, and more.
CodeLand 2022 is produced by CodeNewbie and DEV, two software communities built on Forem.
Learn more about CodeLand here and register here.
---
We're thrilled to share that Kelsey Hightower will be joining CodeNewbie Founder, @saron, for a fireside chat at CodeLand 2022! 🎉
Here's a bit more about Kelsey Hightower to help get you excited for this conversation...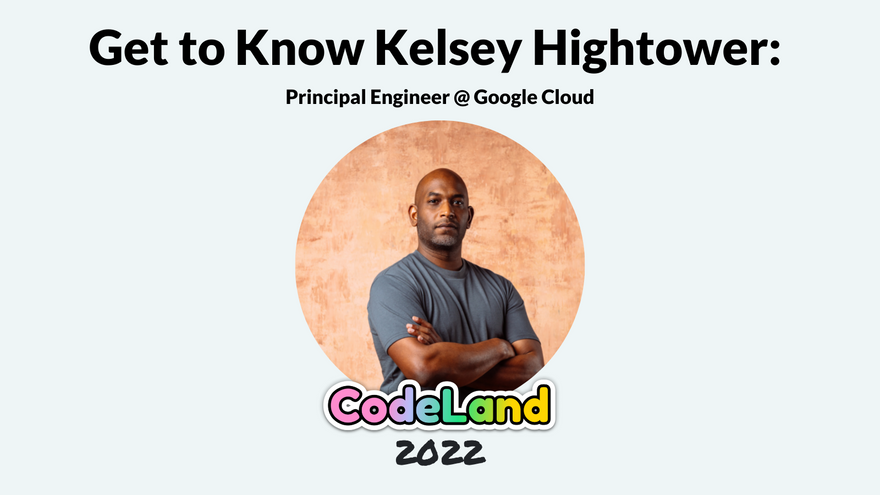 Pronouns: He/Him, They/Them
Title: Principal Engineer @ Google Cloud
Based out of: Camas, Washington
Bio in Kelsey's words: "Minimalist."
Kelsey is a self-described curious and motivated self-learner. He gained an interest in computing at a young age, and started his IT career by opening a small consulting shop 20 years ago. From those beginnings, his career progressed quickly, eventually passing through the halls of Google, Puppet Labs, New Relic and CoreOS. Kelsey is a system administrator by trade, a programmer by necessity, but a problem-solver at heart.
With a passion for helping others, many successful speaking and teaching engagements under his belt, and a proven track record of getting things done and enabling others, Kelsey endeavors to solve the many problems facing IT culture by equipping people with the mental and computational software they need to succeed in the competitive world of technology.
We're so excited to experience this fireside chat between Kelsey Hightower and Saron Yitbarek at CodeLand 2022! 🌈
---
"What's a 'fireside chat'?"
In the world of events, conferences, and broadcasting, the term "fireside chat" is used to describe an informal yet structured conversation with influential leaders whose insights and thoughts many communities could benefit from accessing.
We think that our audience of early-career developers will learn a great deal from this fireside chat with Kelsey Hightower — one of the most respected figures in cloud computing and open source software.
"What's next on the road to CodeLand 2022?"
We will be announcing one more fireside chat in the coming weeks. Stay tuned to CodeNewbie Community and @codelandconf on Twitter for news and updates. In the meantime, you can browse the program here and register for the event here. ✨