CodeLand 2022 is a welcoming virtual conference for early-career coders and their champions, taking place on June 16 & 17. We're hard at work building an inspiring, practical, and inclusive program of talks, activities, and more.
CodeLand 2022 is produced by CodeNewbie and DEV, two software communities built on Forem.
Learn more about CodeLand here and register here.
---
We're thrilled to share that Tracy Chou will be joining @ben (Creator of DEV & Co-Founder of Forem) for a fireside chat at CodeLand 2022! 🎉
Here's a bit more about Tracy Chou to help get you excited for this enlightening conversation...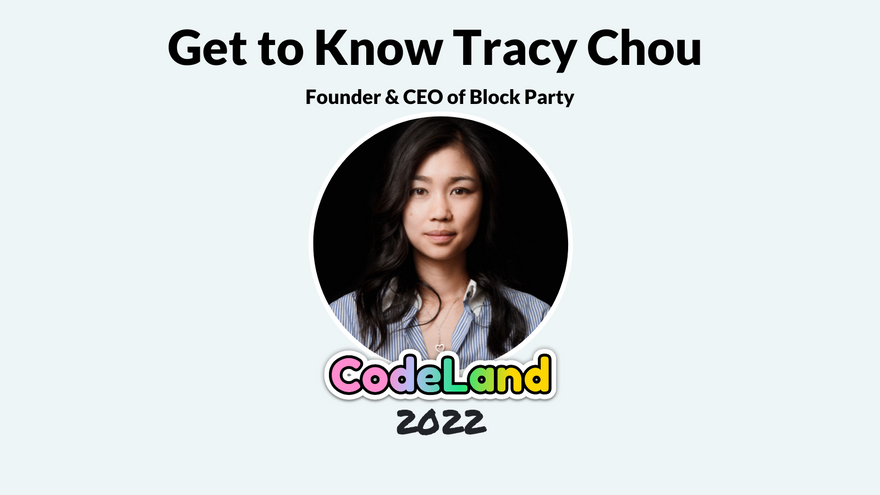 Pronouns: She/Her
Title: Founder & CEO of Block Party
Based out of: London
Bio: Tracy Chou is an entrepreneur and software engineer known for her work advocating for diversity and inclusion in tech. She is currently the founder and CEO of Block Party, which builds tools for online safety and anti-harassment. She is also a co-founder of Project Include, a non-profit working to create a tech ecosystem where everyone has a fair chance to succeed. In 2013, her Medium article "Where are the numbers?" helped jumpstart the practice of tech companies disclosing their diversity data. Tracy was an early engineer at Pinterest, Quora, and the U.S. Digital Service.
Fun Fact: Tracy is an avid reader and likes to organize her books by color. 🌈
We're so excited for you to experience this fireside chat between Tracy Chou and Ben Halpern at CodeLand 2022!
---
"What's a 'fireside chat'?"
In the world of events, conferences, and broadcasting, the term "fireside chat" is used to describe an informal yet structured conversation with influential leaders whose insights and thoughts many communities could benefit from accessing.
We think that our audience of early-career developers will benefit from and enjoy this fireside chat with Tracy Chou — an inspiring force of change and innovation in our industry.
"What's next on the road to CodeLand 2022?"
Stay tuned to CodeNewbie Community and @codelandconf on Twitter for news and updates. You can browse the program here and register for the event here. ✨