The IP2World Referral Program does not require any payment, and you can easily earn commissions by using the IP2World webpage.
Referral Program User Guide: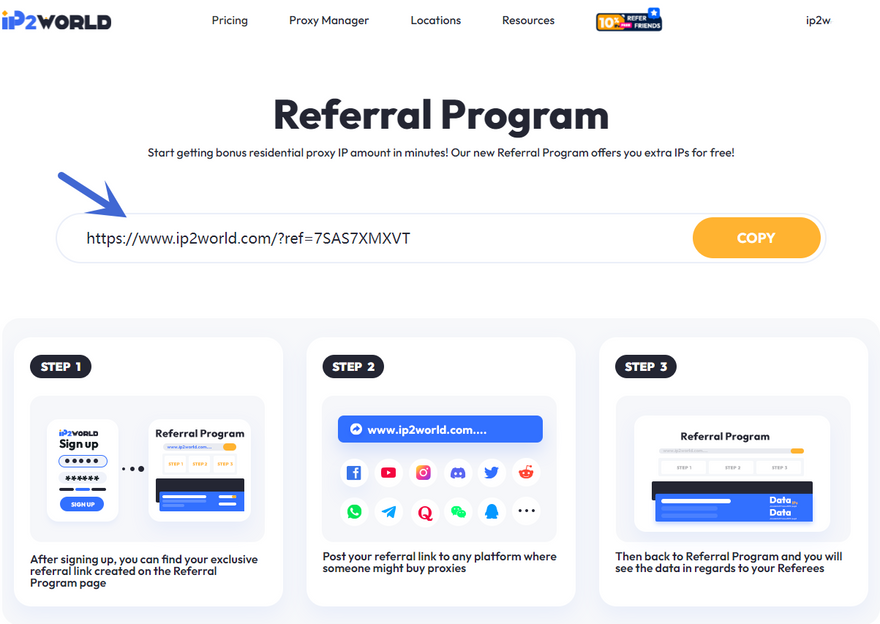 STEP1:
Enter the IP2World official website, register an account and enter the Referral Program page
Here you can find the exclusive referral link you created
STEP2:
Place your referral link on forums, social media, and other platforms (wherever purchases may occur) where IP Proxy users are resident
STEP3:
Then go back to the Referral Program page where you will see all the data about the referral
Referral Rewards: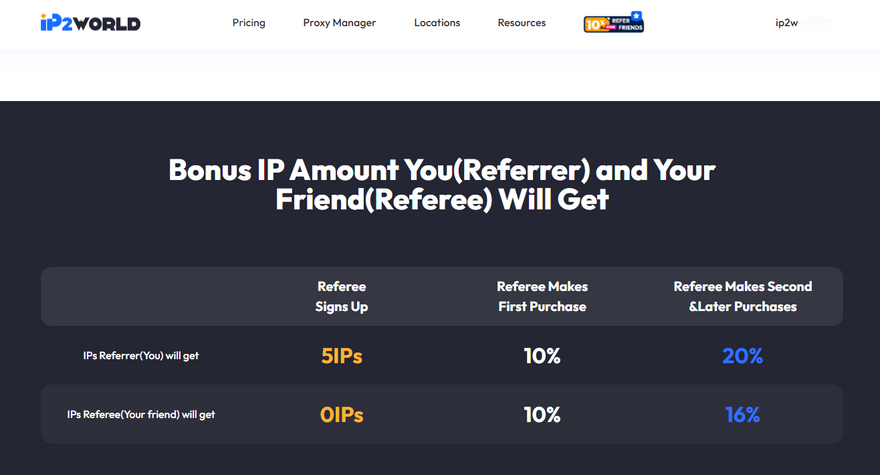 Referral Rewards:
When the referee registers successfully, your account will automatically receive 5 IP rewards
When the referee makes the first order (eg: purchase 200IPs), your account will get 200*10%=20IPs. The referee will get 200*10%=20IPs
When the referee completes the second order (eg: purchase 500IPs), your account will get 500*20%=100IPs and the referee will get 500*16%=80IPs
In addition to the referral program, we are recruiting resellers for long-term and stable cooperation.
According to the monthly transaction volume and number of customers you bring, we will customize exclusive Discount Codes and provide surprise pick-up prices. If you are interested, you can contact us through Telegram:@ip2worldcs.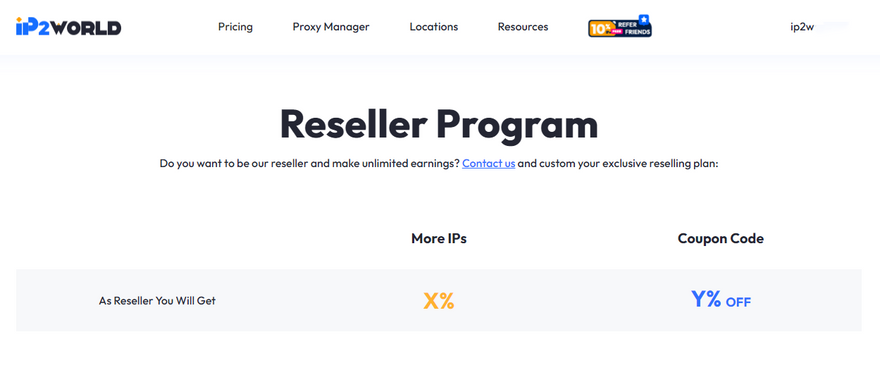 Official Website: www.ip2world.com
This concludes this introduction. For other IP issues, please join the official Telegram channel @ip2world to check the latest updates or contact customer service to solve them.
Business cooperation contact: Telegram@ip2worldcs
residentialproxy #IPproxy #ISPproxy #proxynetwork #residentialIP #datacenterproxy #dynamicproxies #USproxy #httpproxy #socksproxy #socks5proxy #staticresidentialproxy