To learn about and comprehend how businesses work, you must first understand the set of business words. Return on Investment (ROI), a measure of an investment's effectiveness, is one of these words that is frequently employed. It is a crucial indicator that is stated as a percentage or a ratio and is used to rate the attractiveness of various investment options.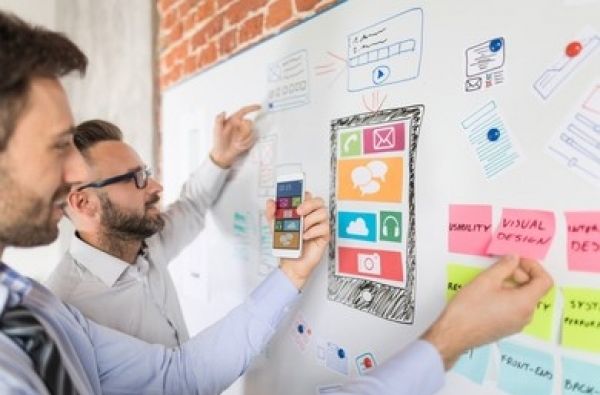 The Return on Investment can often be determined using either of the following formulas:
So, if a company invests USD 100 per month in marketing and receives USD 200 in return directly from that investment, you can calculate ROI by dividing $200 by $100, which equals 2. In other words, the company made two dollars for every dollar spent on the campaign. Calculating your return on investment will help you see what is beneficial to and detrimental to your firm. As a result, you can reflect and invest in fields where you can make money and increase your revenue.
How Mobile Apps Can Be Used to Generate Income
You can incorporate advertising networks like AdMob if your business doesn't offer products or services directly. Other ways to make money with an app include providing services through an online store or allowing users to make in-game or app purchases. Ovum predicts that mobile apps will bring more than $75 billion to the economy.
Global Average Revenue From Mobile Apps Per UserApps
AppsFlyer and Facebook analyzed last year to determine the typical ROI on apps. They looked at 3800 apps that brought in a combined $2.4 billion in revenue.
Compared to shopping apps, which generate an average of $13.88 in revenue per user, mobile games had the lowest ROI at $1.70 per user. Although the average income for shopping apps may appear large, most well-known games are available for free and make money through in-app purchases. Most players in these games continue to play for free without making purchases. However, some users may shell out up to $100 for premium in-game products.
Even though it may seem like it, the average return on investment for a mobile app in the travel sector was $29.42 per user over the course of 180 days. The average drops to $14.71 if we convert to a 90-day timeframe, which is still more than gaming and shopping apps. Let's look at the specific actions and comprehensive process of determining ROI for mobile apps.
If you're thinking about developing an app for your company or have already done so, figuring out how much money the app has brought in and evaluating its return on investment should be your top priorities. To ascertain the profitability of your efforts in developing an app, you must calculate the return on investment of your mobile app.
The Process of Measuring the ROI of Mobile Apps
Identify Your Goals
The most important step is to know what you want an app to accomplish for you. This step is significant since others logically follow it. Before designing the screens or even beginning to develop the code, this must begin. One of the two planned outcomes can be used to gauge the success of every mobile campaign:
Analyze your customer interactions with a focus on user acquisition, retention, and mobile influence.
Focus on sales and marketing, asset management, and field service as you assess workplace productivity.
At every level of the App Development process, mobile app developers must be clear on the business goals and critical metrics. You might not be able
to use your money for app development successfully if this phase is not carried out correctly.
Cost of App Development
This stage is crucial since you may need to ensure that you stay within the budget's parameters and avoid using excessive resources when developing the app. It is essential to keep track of the costs associated with development since you will need them to compare them to the KPIs outlined in the following stage.
Development expenses typically consist of:
Costs of implementation

Hardware is expensive.

Integration and assistance
It must also be kept in mind that after the app has been developed, there is also a need for a maintenance team which adds to the long-term development costs.
Assign a Measurable KPI to Each App
Key Performance Indicators (KPIs) are business metrics used to assess the elements crucial to an organization's success. They vary from company to organization since some may use net revenue as a KPI while others may use customer loyalty metrics or retention rates. This is related to the first step because the metrics vary depending on an app's goals.
If your goal is to communicate with customers, you might want to see if your app is bringing in new users so you can assess the costs of your mobile efforts in comparison to those of other channels.The stats will show you whether your established campaigns are producing more or fewer leads. Consequently, you can contrast the prices of your mobile leads with those from other channels. Additionally, as an android app development company, you can learn how the app affects your clients and whether or not it has an impact on consumer behavior. The stats will help you understand your app's performance and how it affects your sales, which will help you run your business more efficiently. You are also in a better position to assess equipment uptime and maintenance expenses. These analytics enable you to examine your advertising efforts from many perspectives and assist you in customizing how you maximize your outcomes.
Compare the costs to your KPI measurements.
You can now determine an app's total value by assigning each one a measurable KPI. The KPI metrics can be compared against the development expenditures to decide whether or not they outweigh them. It's advisable to plan this with the app's expected lifespan or, at the very least, the amount of time you intend to continue investing in-app updates and maintenance.
By calculating the Present Net Value (NPV advantages) over Net Present Value (NPV expenses), you may determine the ROI for your app development. The formulas below can be used to determine the two:
Conclusion
Many companies have invested in hire dedicated dot net developer and IOS developer as the market transitions to a digital environment. Understanding and correctly calculating your app's return on investment (ROI) not only enhances your results but also aids your company's growth in the desired direction. You can only comprehend ROI for app development from the article.
To truly calculate ROI, however, you would need to have a comprehensive understanding of your omnichannel customer so that you can know the effects of every second on your company.