Step 1: Create a Survey Form in WordPress
First, you'll need to install and activate the WPForms plugin. The free version of the plugin doesn't offer survey features, so you'll need WPForms Pro or above license to access the free Surveys and Polls addon.
Step 2: Customize the Survey Form Rating Field
You can add additional form fields to your form by dragging them from the left-hand panel to the right-hand panel. Then, click on the field to make changes. You can also click on a form field and drag it to rearrange the order from up to down or vice versa on your form.
Customize the Survey Form Likert Scale
Step 3: Customize the Survey Form Likert Scale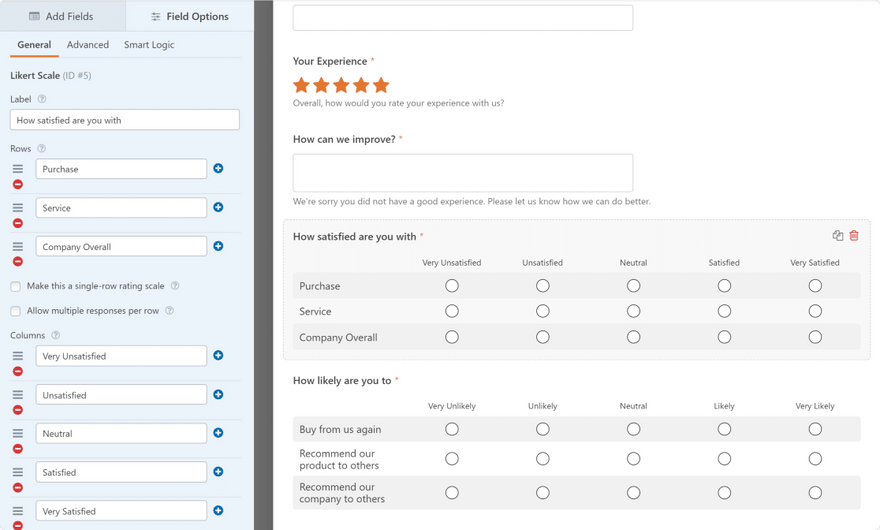 Step 4: Enable Survey Reporting
In order to receive the real-time results as survey respondents fill out your form on your web page, you need to enable survey reporting. To do this, go to Settings » Surveys and Polls. Then, click on the Enable Survey Reporting checkbox. This will enable survey reporting sitewide.
Step 5: Configure Your Form Settings
There are 3 settings to configure on your form:
General. Here you can change the form name, customize the submit button, check that the anti-spam feature is enabled, and disable storing entry information and user details, like IP addresses and user agents, to further comply with GDPR.
Notifications. To receive an email that someone has completed your WordPress survey, you'll need to set up form notifications in WordPress. If you use smart tags, you can also send a notification to site visitors when they complete your survey, letting them know you received it.
Confirmations. Once site visitors complete your form, you can show them a message right after, take site visitors to another page on your website like a Thank You page with your social media links, or redirect visitors to another website altogether. For help with this step, check out our helpful tutorial on how to set up form confirmations.
Step 6: Add Your Form to Your Website
Once you complete all the form customizations, click on the Save button at the top right corner of the page to settle everything. Also, if you want to peek at how your form will look on the live page, you can preview your form by clicking on the Preview button.
Step 7: Generate Survey Reports
Once people start filling out your form, you can see any data that's collected.
To generate a survey report, go to WPForms » All Forms and hover over your form to display the options. Then, click on Survey Results. The Surveys and Polls addon create beautiful survey reports and display real-time insights with the best visualizations for each form field.
Reference Blog
How to Create Poll Form For Your WordPress Site