Originally published March 21, 2018 on The Original BritishPandaChick blog. I made tweaks to the original post so it would work for Code Newbie.
Today's post begins a brand new Skillcrush course with new skills and concepts to learn. This post is the beginning of many posts for Skillcrush 300: Introduction to Freelancing. Freelancing is a popular way many people get started in tech in order to build their portfolios, network with others, and even an opportunity to earn money as you learn how to code.
Freelancing is a skill that can be customized to fit you. Skillcrush 300 is a course meant to show students everything they need to know to start working with clients and earning money. Now that you know HTML & CSS, you are more than ready to start earning money.
That might seem hard to believe, but you are ready to start earning money.
Before you can begin freelancing, Skillcrush 300 deals with a developer's worst enemy. This enemy is none other than impostor syndrome and self-doubts. The first lesson of this course is about dealing with impostor syndrome and what strategies you can use to help you deal with any of these doubts when they happen to pop up along your coding journey.
What is impostor syndrome?
Impostor syndrome is an ongoing struggle everyone faces at some point in their careers. If you ask anyone in tech to share an experience with impostor syndrome, you'll get plenty of stories from people of all different skills or careers that struggled with it. It doesn't matter if you are a web developer or an animator at Disney. Everyone experiences impostor syndrome so you aren't alone.
Skillcrush defines impostor syndrome as an inability for high-achieving people to embrace the skills and accomplishments they have. This makes them feel like they are fake and unqualified when evidence shows they are 100% qualified for a job or task. There can be tons of evidence showing a person is qualified for a position, but an individual with impostor syndrome will see themselves as a fraud.
You know you have impostor syndrome in that you feel like you are playing a trick or feel hesitant about sharing your accomplishments. Some people might believe it was pure luck that got them to where they are now. Impostor syndrome can strike anyone at any skill level when they least expect it.
This mindset is bad for anyone in any career since it is a barrier that keeps people from what they want.
These barriers can be keeping them from performing their job or finding a job they want. It can be especially damaging for underrepresented groups in your industry. Impostor syndrome can give them the wrong impression of the industry and make them feel they don't belong.
One of my favorite examples of impostor syndrome comes from the TV show Scrubs. In the episode "My Way Home", Elliot is nervous about speaking in front of endocrinology experts for an upcoming presentation. She later tells J.D. how she feels and how she's worried about being a fraud when other experts ask her questions since she has been hiding notes all over the hospital just in case the interns ask her questions.
J.D. assures that she can do this and shows her she's already an expert due to how much time Elliot reads and studies the material. Watch the clip below to see how J.D. shows Elliot she has nothing to worry about and can tackle any question the experts have.
How to overcome it?
Impostor syndrome does pop up from time to time, but Skillcrush does offer tips on what you can do to fight any feelings of doubt you might have. Some of these tips include:
Writing all the worries you have in a notebook or a Google Doc.
Taking a break and shifting your focus to something else.
Reminding yourself that you don't have to know the answer to everything! We are all human and don't know the answers to everything. Every developer I've talked to admits to googling when they don't know an answer because tech is always changing and there so they are constantly learning new things each day.
Face your fears. No matter what the worse outcomes you have in your head, you can recover from these outcomes with grace. In many cases, the things we fear the most aren't as bad as you think.
Create a rewards system. Pick a way to treat yourself after you do something scary or intimidating. Need some inspiration? Skillcrush recommends Lara Hogan's donut manifesto where she treats herself with doughnuts every time she does something amazing.
==> Click here to read Lara Hogan's donut manifesto!
Now, these tips are great for the short term, but impostor syndrome is an ongoing struggle that will pop up when you least expect it.
In order to keep impostor syndrome from wrecking your mindset in the long term, the key is to focus on the positives and train your brain to acknowledge those positives instead of the negatives. Skillcrush recommends these methods for helping train your brain to do this.
Connecting with old co-workers on Linkedin and asking for recommendations.
Keeping a victory journal and writing down one accomplishment each day. Many developers use the bullet journal method and keep a page just for tracking victories.
Make a kudos folder that has things that make you smile or make you feel good about yourself. These can be images of things that make you happy or just a collection of professional items that remind you of what you can do.
Remind yourself that you belong in this space and it is your time to shine.
Stop comparing yourself to other people. Remember everyone is at different stages and brings different experiences to everything we do.
Impostor syndrome isn't easy to fight, but it is worth it and will make you grow into the person you want to be. I admit. The process is going to be uncomfortable. However, if you are working towards any big change, it often feels uncomfortable since you will be venturing outside your comfort zone.
Check out some of these graphics I made. They are meant to illustrate how impostor syndrome makes us perceive what we know vs what others know. The first graphic puts an emphasis on what others know instead of what you know.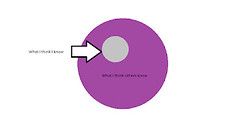 Now let's take a look at the second graphic. The biggest difference in this graphic is the emphasis put on what you know and less on what others know. This graphic also points out other people might overlap on things we might know, but each person is different and brings something unique to a team.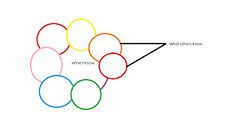 What I Like to Do
The challenge activity for this lesson is creating a kudos folder. I created a kudos folder in my Google Docs which has screenshots of times I've been featured in e-mail newsletters, certificates I've received, and images reflecting specific accomplishments I've achieved.
I was accepted to Google's Grow with Google scholarship program and put the social media graphic in my acceptance e-mail in my kudos folder. I added the graphics for my talk at the Moms Can Code virtual summit in my kudos folder to remind me of what I have accomplished in tech.
The kudos folder isn't the only way I battle off impostor syndrome.
When I feel any signs of impostor syndrome, I will listen to a couple of podcast episodes. Podcasts are very popular among the developers in tech since it is a great way to keep up with what is happening in the industry if you don't have a lot of time. Listening to podcast episodes always inspires me since these are real people who actually made the change into tech. Their stories always remind me that they started the same way I am and if they can do it, then I can do it too.
Community is extremely important in tech and is my go-to support system when I need a pep talk. Social media is your friend here. Join a few Facebook groups and reach out to others in the group about any questions or fears you have about tech.
All the people I've met in tech are very supportive since everyone is at the same place and dealing with the same struggles. My go-to support network is my mastermind group. I formed a mastermind group with 3 other Skillcrush alums last year and our group's mission is to "motivate and inspire each other to do the best work possible". We help each other with problems and give feedback on issues we might have been facing.
Finally, there are motivational quotes or phrases.
One of my favorite things to collect are iPhone backgrounds. Almost all the images on my phone are just wallpapers featuring inspiring quotes and phrases. I like to set one of these wallpapers on my lock screen and home screen so I can look at it every time I pick up my phone.
Some of the great places to look for wallpapers are BuzzFeed, the Everygirl, and Disney. I recommend picking phrases or quotes that make you feel good.
Conclusion
Impostor Syndrome is an ongoing struggle we'll always be battling, but it is manageable. Skillcrush provides a lot of tips on how to battle impostor syndrome and I even shared some tips on what I use to keep my doubts from messing with my head. Feel free to try these techniques and share your own tips on how you deal with impostor syndrome.
Tomorrow, I'll be reviewing lesson two of Skillcrush 300. Lesson two is all about finding your niche and why you should figure out what clients you want to work with before you begin freelancing.