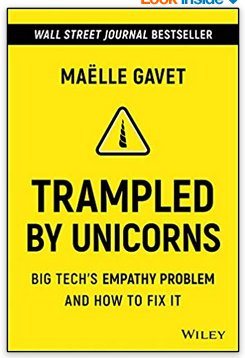 Outside of writing on what I'm learning in the coding world, I want to write a bit in the "watercooler" section about some fun books I'm reading in 2021. Some will be based around the tech industry, while others might focus on sports, politics, history/biographies, etc.
Also a quick note - My first book for 2021 was written by the former COO of a company I used to work for (Compass), however I was not asked to write this nor am I receiving any benefits whatsoever for writing about it. I picked it up out of my interest in the book's subject.
"Trampled by Unicorns" by Maelle Gavet is a fun read for anyone who enjoys technology. Our lives are shaped by technology, especially the large "big tech" companies - Apple, Google/Alphabet, Microsoft, Amazon, Facebook to name a few. Maelle argues that while these companies have done a lot of really cool things and made some really awesome products, their impact on society isn't always positive. There is a lack of empathy for society and people in the world of "Big Tech" and venture capitalist, and the lack of empathy is replaced by an hyperfocus on growth and power.
The book is split into two halves. The first half explains various problems caused by Big Tech, like tax avoidance, hurting local communities where their HQs are at, psychopathic leaders, and more.
While finishing the first half of the book left me feeling bleak about the future, the second half is full of potential solutions to tackle the problems listed in the first half. But Maelle is able to write about this without completely bringing down technology - in fact, she is a huge fan of technology and is optimistic about the role that everyone plays in advancing society. Her solutions are a mix of government regulation, personal choices, and long-term business decisions that big tech companies can make today.
From the Cambridge Analytica scandal a few years ago, to the toxic social media culture and fears on internet privacy, we have all experienced at least a little of what Maelle writes about in her book. I highly recommend it to any tech fans out there. You can check out more information on Trampled by Unicorns here along with various places you can buy it.