Hello Fellow CodeNewbies 👋,
If you're on Twitter, you must have heard about Polywork.
But if you haven't, try to Google it. And you will find:
Polywork is a professional social network where people highlight the things they've been up to - work, life, learnings, plans & more.
-- www.polywork.com
In this article, I want to share my impression of Polywork, as a web developer and a technical blogger.
Getting To Know Polywork
The first time I learned about Polywork was from some members in my community who gave away their VIP codes.
So I took a VIP code, bypassed the waiting list (Thank you, Nick Taylor!), and created an account.
But I wasn't active in updating my account because I didn't know exactly what it was.
I admit that I created an account to see what people are talking about 😆.
There were some articles about people's experiences with Polywork. But I still didn't see how different it is with LinkedIn or Twitter (which I have an account on both platforms).
One day around August (yes, it took me that long to finally work on my profile 😁), I decided to update my profile on Polywork.
It took me around 2 hours to update my profile. I went back and forth between Twitter, GitHub, and blogging platforms. But it finally gave me a sense of what Polywork is.
Polywork offers something between professional and social networks. We have a place to display our professional work and skills. But we also have space to be who we are outside our professional life.
And that's what I love about it!
We are not only our professions. We are also people who have lives, personal interests, and other activities.
And another thing with Polywork that I like is that they don't provide a "like" button.
It makes people get less (if not free from) social anxiety, leading to mental health problems.
Although there is no like button, comment and message features are still available.
Polywork's Features
Let's explore Polywork's features.
Badges
Badges are labels of our skills and interests. We can add as many badges as we want.
You might know me as a self-taught web developer and a technical blogger. But do you know that I am also a foodie who cares about communities, has an interest in photography, etc.? 😄

Highlight
This is where we want to post our activities, achievements, or anything that we want to highlight.

Shortcuts
Shortcuts on the highlight page come in handy at the bottom.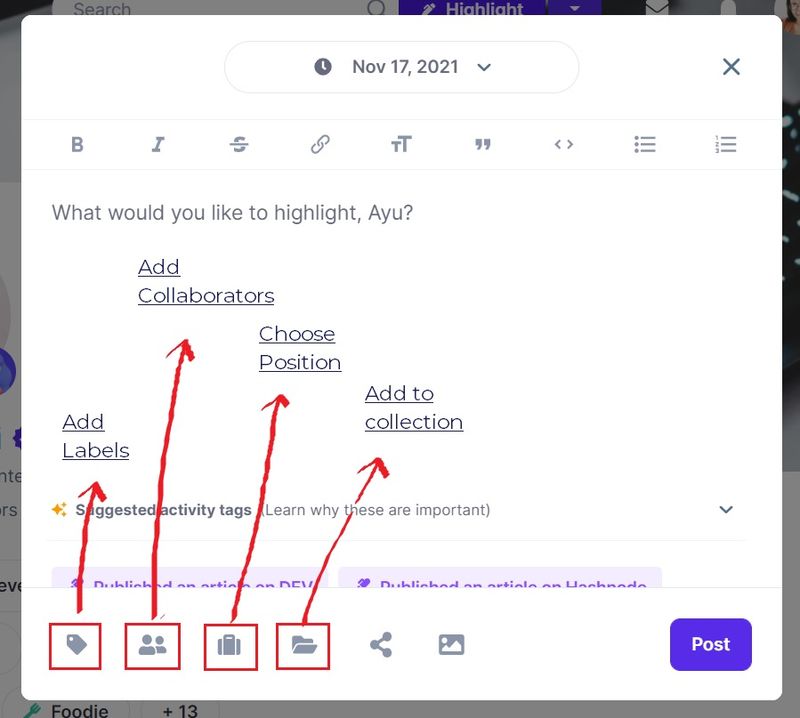 Timeline
Like any other social platform, the timeline in Polywork is the list of our highlights.

Collections
This is one of the features of Polywork that I love!
Our timeline is getting longer and longer as we add new activities.
But we can create some collections and group our activities together. It's much easier to see our top highlights within our collections.
One of my favorite personal collections is "💙 Ayu's Mood Booster." I group some milestones and shoutouts that I received from lovely friends as a reminder for me to be grateful 💖.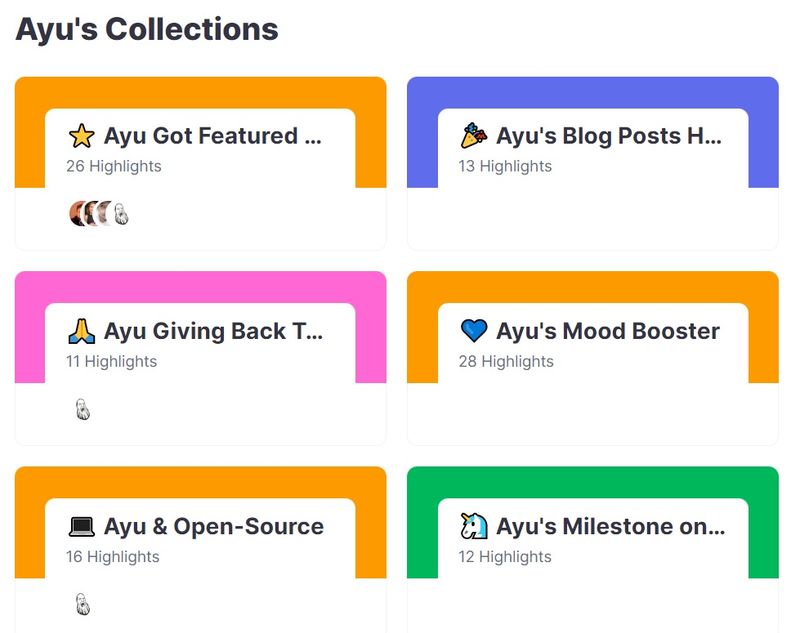 Positions
We can add our current and previous positions just like other professional platforms.


Opportunity Preferences
Polywork opens chances for people to collaborate.
This feature lets people know that we are open to opportunities or collaboration.

Space Station
You can find people who are open to collaborations and opportunities on this page.

How To Make The Most Out of Polywork?
Take time to think about what you will write in your bio.

This would benefit you when you are looking for opportunities.

Re-arrange your badges from the top skills and activities.

This way, people can catch your skills and abilities in a glimpse.

Update your highlight as soon as you have done a new activity or achievement.

Create collections.

It's easier for people who are looking for someone to collaborate with. They can take a look at your collections rather than scrolling through the timeline.

Add activity tags every time you post a highlight.

It will help your space to be discovered on the Polywork network.

Add collaborator(s) if any.

Fill the opportunity preference to open your door to possibilities of collaborations.
My Impression of Polywork
As a web developer, I can highlight my skills and activities. And as a technical blogger, I have a place to highlight my blogposts, achievements, and many more.
Bonus point. Highlighting things outside my professional life on Polywork doesn't make me feel awkward. I can highlight my personal interests, activities, and things that I care about. I can be me 😄.
The bottom line is, I love Polywork!
If you have a chance to grab a VIP code, take it and experience Polywork yourself. Otherwise, you can join the waiting list 😊.
---
Thank you for reading!
Last but not least, you can find me on Twitter. Let's connect! 😊