Today, I'm excited to share that the Forem app for Android is now available for download and immediate use. 🎉
This fantastic news comes after months of beta testing and collecting valuable feedback from Forem Creators, DEV moderators & Trusted Users on DEV. We're so proud of this mobile app built for the many Android users that are part of DEV, CodeNewbie Community, and the entire Forem ecosystem.
Much like the Forem iOS app, our Android app is meant to help you move through your day without sacrificing smooth access to new articles, podcasts, and discussions across any Forem community you're a member of. With a more seamless experience and a wider world of Forem access at your fingertips, we see our Android app as a huge improvement from the now discontinued DEV app.
---
Here are some of the features you'll get with the Forem iOS & Android apps...
Discover, preview, & join new Forem communities
Browse the list of available public Forems or add a privately listed Forem you belong to. Tap into each for a preview before you decide to join.
Access both public and private Forems
Our dropdown menu or left-right swiping functionality allows you to explore different communities through one central list.
Browse mobile-optimized content
Articles, discussions, and podcasts on public Forems are available for your enjoyment — whether you're a member of them or not.
Share images on the go
Post while the inspiration strikes with our mobile image uploader.
Stay up-to-date with the latest activities
Push notifications keep you in the loop with the latest news about your posts, comments, and network.
... and lots more!
Ready to get started with Forem on mobile? Download Forem for Android and iOS today.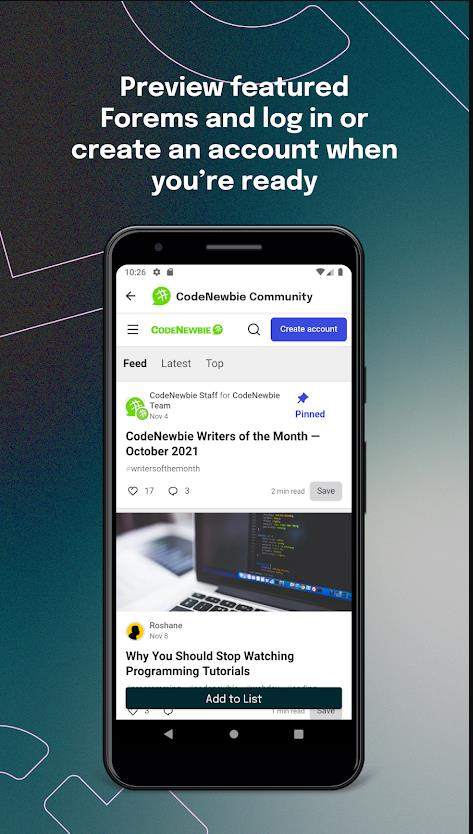 Let us know what you think of our apps! If you love them, we hope you'll consider leaving us a five-star review. ⭐️⭐️⭐️⭐️⭐️