We have launched our service for a couple of weeks.
We keep tracking the conversion rate of landing closely.
The landing page to signup page is around 30% which loses 70% traffic.
And surprisingly the signup page to users do signup also around 30% which we lose 60~70% traffic again.
We keep modifying and tune the texts of the landing and signup pages, but there's no obvious change.
The signup page is straightforward and very similar to most of the signup page which provides both GOOGLE and EMAIL.
BUT we keep finding users just typing their Gmail account rather clicking the [Signup with Google], and some just give up the signup during typing.
We can't understand why but still try to do something.
We notice that the【Sign Up for Free】is BLUE color which is more obvious compared to the WHITE button above.
So we just switch the color and remove the【For Free】text to make both buttons the same.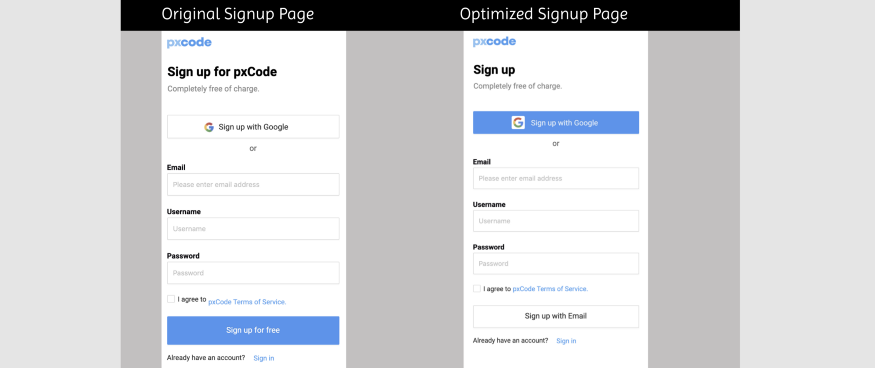 And just a few days later, the signup conversion boost from 35% to 55~60%!!
Users don't type their email anymore, they just click the blue button.
We understand the color matters but are still surprised a simple change makes a huge difference. With the lesson learned, we will keep looking closely at any details which might affect the conversion.
---
Our optimized signup page: https://www.pxcode.io/signUp
Please feel free to feedback if any suggestion for the conversion rate improvement.