Over the past few weeks, I've gotten a lot of questions about how to present yourself on LinkedIn to increase your chances of getting noticed by a recruiter and finding your first job in tech. So here are my suggestions for a great LinkedIn profile that has really helped me get noticed by recruiters.
There are 7 important points that you should focus all your attention on to get the most out of your profile:
Profile Picture
Banner
Headline
About section
Featured section
Experience
Skills & Endorsements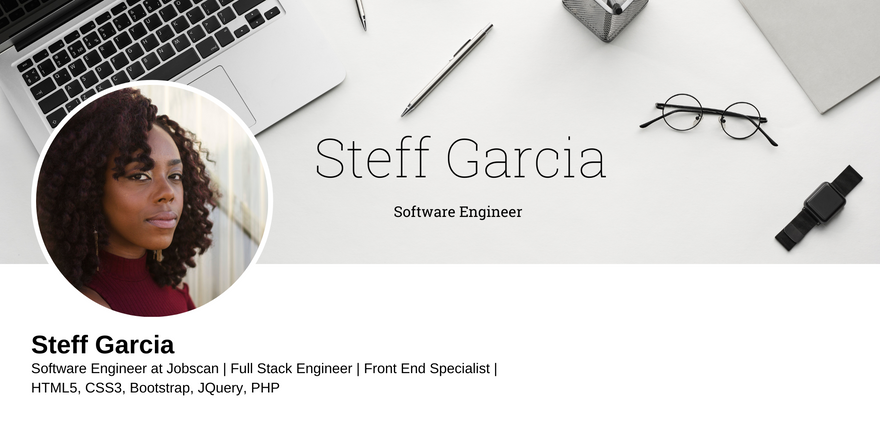 The Profile Picture
Make sure that the profile picture shows your current self. You should be in the center and the background should be as clean as possible so that you as a person don't blend into the background. Don't worry if you are not able to take a professional photo of yourself, just make sure it is decent and doesn't show you at a party with a drink.
The Banner
It's perfectly fine to have a simple banner, not like my example. Just make sure you choose at least one of LinkedIn's suggestions instead of leaving the background blank.
The Headline
The headline is the most important part of your profile, because it is what recruiters will see first. Therefore, it's very important to include keywords for your job title in it, such as Frontend Developer or Backend Developer, as well as keywords for the languages you work with, such as JavaScript, ReactJS, or Python.
You should also include your GitHub profile or a link to your personal website in your contact information so recruiters can take a look at your code.
The About Section
The About section should start with the most characteristic features. It should again contain the languages you work with (keywords should be more frequent), and it can be followed by some words about your last project, your goals, your specialties, and again links to your GitHub and personal website.
Hi, I'm Julia, an enthusiastic software engineer using JavaScript (ReactJS, Angular) and Java Spring Boot, with a passion for design using CSS, SCSS and Figma, creating PWA considering a11y. My workflow revolves around agile methodologies, so I'm currently preparing for the Scrum Master exam to work on projects in an agile way....

In my last project, I created an SOS animal app that allows people to report abandoned dogs to the nearest animal organizations in Romania. The app was built with ReactJS and CSS and was one of the runner ups in the Clerk x Hashnode Hackathon. (Link)

I am passionate about building and contributing to projects that increase productivity, bring people together, and/or foster growth.
My dream company values...

Check out my projects on GitHub: www.github.com/yourname
The Featured section
The Featured section should contain your best projects, with a thumbnail, a link to the live view, and the GitHub code. This makes it easy for recruiters to get an overview of all your projects. Include a description and again keywords, i.e. the tech stack you use.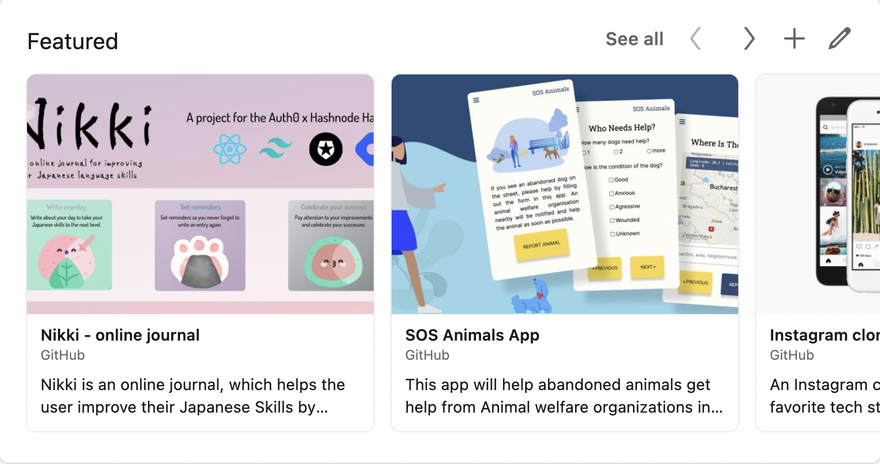 The Experience section
List your experiences with bullet points of what you did on the job. Also include what technical tools you worked with and make the tasks measurable. Don't just write "I managed a team," but also include the number of people you were responsible of. "I managed a team of 6 people". If you helped increase the company's productivity, include how, over what period of time, and how much that increase was. "Through my development of the "Your App", the company's productivity has increased and generated a 25% profit."
Also include the time you worked at that company or if it is your current position, and always add links to your projects.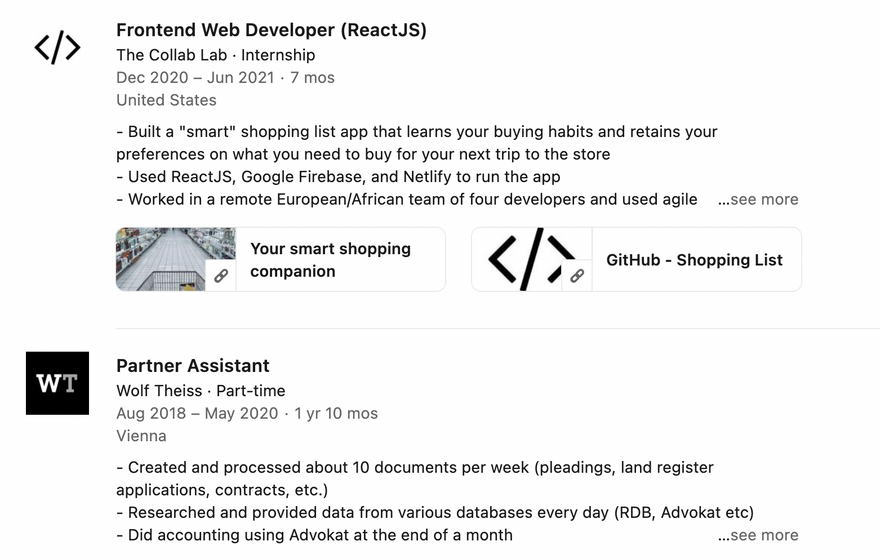 The Skills and Endorsements section
List everything you have in the field. If there is a LinkedIn test for this, try to take it. This area is also very important for recruiters to find you.
If you have worked with someone or are still in good contact with your former colleagues, ask them to write a recommendation or confirm one of your skills.
Other important things
The URL
Many people don't know this, but you can change your URL to include only your name. (At least, if it's not already being used by someone else with the same name). This makes it easier to find you. So make sure you change the URL LinkedIn gives you when you create your account to a personal URL.

Education
Include your education, if you have completed it (or still ongoing), as well as the start and end dates. If you have done something in the technical field, you should mention it in the description with keywords and bullet points. Mention what you focused on during the education and use keywords.
Volunteer
If you have volunteer experience, add it. Write them as in the "Experience" section.
Certification, Interests, Accomplishment
LinkedIn is a huge platform and offers users many opportunities to demonstrate their experience and interest. Fill in everything you have to add. Chances are the recruiter won't even make it to the bottom of your page, but still.
You can set your profile to "Open for Work" to be found more easily, or enable your private settings to let recruiters know you are open for work.

And you are ready to go. I think it's needless to say that you need to pay attention to grammar. You can do it. Please get back to me if a recruiter has taken notice of you. I'd love to hear your success stories after you've taken some of my tips to heart.
This article was first published on dev.to Dec 5
---

Thanks for your reading and time. I really appreciate it!