Hello Fellow Codenewbies 👋,
Last January, I signed up for CodeNewbie Challenge 2022: Learn In Public. This five-week challenge taught me how to learn in public through content creation, from creating learning plans to execution.
They encouraged us to write a series of blog posts, then turn them into audio/visual (A/V) content, such as creating videos or podcasts or submitting a talk.
Public speaking and A/V content — anything that requires me to show my face and talk to the public — are my kryptonite.
I planned to get out of my comfort zone and try it out. But it didn't happen 🙈.
Background
During the CodeNewbie's challenge, Virtual Coffee planned lightning talks. It's a yearly internal members' event where each participating member gives a 10-minute talk about tech-related topics.
Like in previous years, I didn't have any plan to participate in this talk except to be a cheerleader.
I do have a few experiences in public speaking. I was a guest on an episode of the Virtual Coffee podcast. Then I participated in a Lunch & Learn at Virtual Coffee to introduce The Collab Lab with two other members as speakers. But I wasn't presenting alone in those events. Solo talk is much more challenging for me.
But something was tickling in me to try this out. The audience of the talk is our members. So I thought, "Hey, it would be okay. It would be like talking to my friends but more formally. If this doesn't work, at least I've tried."
Well, I did the talk! 😄
In this article, I want to share how to turn your blog post into a virtual talk based on this experience.
I hope it can help you if you plan to give your virtual talk for the first time! 😊
Searching For Topic
I reached out to Bekah and told her that I had a thought about doing the lightning talk, but I didn't know what topic I could share. I don't feel ready to talk about something technical.
She encouraged me to do it and suggested talking about something that I know best and doesn't need to be technical—something around tech that I experienced myself.
And I realized that what I know best through my experience is being a self-taught developer and technical blogger.
I've gone through my blog posts and read them one by one.
And my choice finally goes to one of my articles, 10 Tips For New Self-Taught Developers In Learning To Code.
Not only did it come from my own experiences, but later on, this article became very special to me.
Someone reached out to me and told me they reread this article to give them strength whenever they feel down. And a few months later, they landed their first job in tech!
I'm very thankful to them for letting me know about it. It reminds me of why I write; as a note for myself and to help others.
The next thing I knew, I submitted the form for the lightning talk.
Turn That Blog Post Into A Talk
Write the outlines
Writing outlines is not the same as writing a script. At this point, highlight the things that you want to talk about. Outline the things that are important and remember to stay within the topic. Having bullet points would be helpful.
Create the slides
There are many good free slide templates out there. But I use Canva to create mine because it has plenty of lovely designs, even for the free version.
Treat slides as a tool to give the audience an idea of what you are talking about.
Don't write long sentences in your slides. We want the audience to pay attention and get value from what we share and not distract them by reading the slides.
Write the script
After creating the slides, it's time to write the script. Write what you want to say for each slide, word by word. Think about storytelling. Try to connect one point to another, one slide to another, and make them flow as one big story.
Consider the time and how the talk would be
Would there be a Q&A? If there is one, will the Q&A take place during or after the talk?
If it's not clear, you may want to ask the committee about it.
In my case, each lightning talk speaker got 10 minutes without Q&A. So, I prepared an 8 minutes talk and gave myself 2 minutes of buffer time just in case anything happened.
Rehearse Time
You know what? Even people who have given talks for many years can feel anxious. And that's the reason why you want to rehearse.
Rehearsing doesn't mean memorizing. With rehearsal, you will get used to seeing your slides.
Then you get familiar with which slide comes next and what you will say.
The more you practice, the more you sound natural because you feel much more comfortable.
It would be helpful to record yourself when you rehearse.
I didn't want to do it at first. It would be weird to watch and listen to myself 😅.
But finally, I did. I needed to know how I present my talk.
I heard from the program committee that they use Zoom for the event.
So I use it to practice and record myself.
I recorded myself 12 times before the talk 😆.
You can track your timing and listen to your words and intonations by recording yourself. Pay attention to your body language, lighting, and position in front of the camera.
You can fix what you need to improve after you see the recordings.
Having someone join a rehearsal and give feedback about your talk is also helpful.
I'm lucky enough to be paired with a mentor for this talk. They gave me feedback on my outlines and slides and listened to one of my rehearsals.
Technical Preparation
Besides getting a mentor for our talk, we also got paired with a technical checker. They gave us tips on handling the technical sides of the talk a week before the event.
So, what kind of technical stuff do you need to prepare?
Lighting
It is the most crucial one in a virtual talk. Have you ever seen a talk with a backlight that makes the speaker's face look dark? Or when the light is too bright on their face? Or when the speaker wears glasses, you can see their light reflected clearly on their glasses?
Your audience will see you in more detail than in-person talk in a virtual talk. The whole screen would be only you (and the slides).
The best lighting is natural light which you can get from the sunlight. If this is not possible, you need to set it up yourself. There are many good tutorials on YouTube about setting up your light for video conferences. Then you can combine everything to suit your condition.
Camera
You want your eyes to align with the camera during the talk. You want your audience to feel like you are talking to them.
Adjust how you sit to reach this. If you don't have an adjustable chair, you can put some thick books under your laptop to make it higher and in line with your face.
Slides
Besides its designs, I used Canva for its 'presenter view' feature. This feature allows you to have two windows open. One is the presenter window to view your slides and your script, and the other is the audience window, where your audience can only see your slides. It also provides the time to track your talk timing.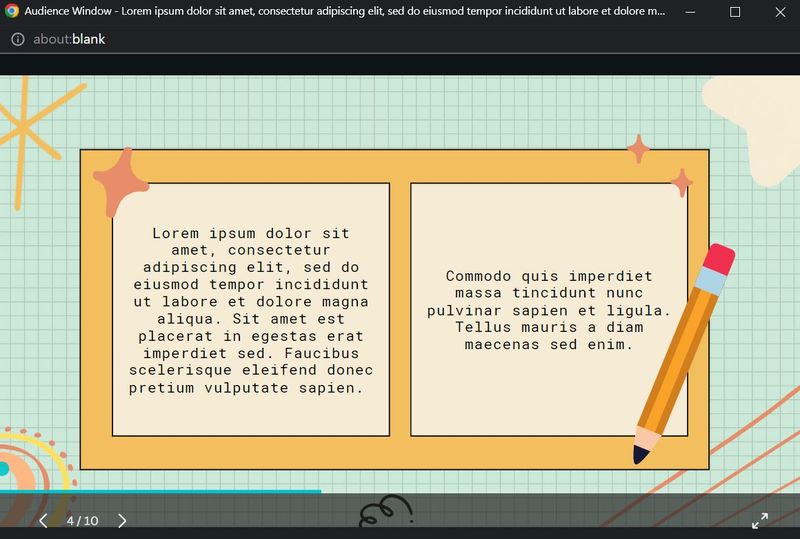 Canva's audience window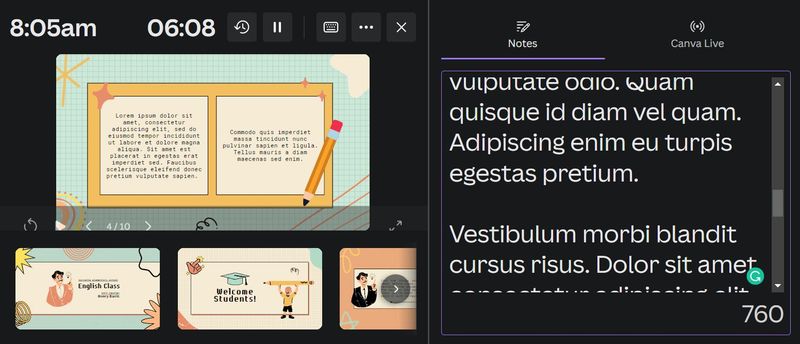 Canva's presenter window
Please be noted that I'm not affiliated with Canva in any way. I only love their products.
You need to set up and try out your slides in advance. You want to have your slides ready for screen sharing on the day of your talk. You also need to know how to share your screen — especially if the organizer doesn't use tools you're familiar with — how to control your slides, etc.
Bonus tips from a first-timer virtual speaker
No need to buy extra equipment
Of course, it would be great to have a good camera, microphone, or ring light. But you can utilize what you have instead of buying.
I borrowed my husband's 720p webcam and used my gaming headphone with a microphone. It doesn't have that bass effect, but it does its job of delivering a clear enough sound.
I couldn't utilize the natural light because the talk was at night, my time.
So I closed all curtains and turned on the light in my husband's home office.
As for the additional lighting, I use two table-side lamps on the right and left sides in front of me. One of them doesn't have a cover, so the light flare on my glasses. I put it on my laptop stand to keep the light on me but minimize my glasses' reflection.
Position your script
It was my first solo talk. And I was lucky to have it virtually. Because it means I could have my script ready before my eyes 😁.
Position your script under your camera and scroll it down whenever you feel you will read it to the bottom. Your audience can see you're reading if your eyes are scrolling down. So you want to keep your text as close as possible to the camera all the time.
Minimize the participants' view on Zoom
When you have a Zoom meeting, there is a bar where you can see all participants.
You might want to see your audience if there is a Q&A during the talk. But because there was none in my case, I minimized the whole panel to show only me. I positioned it right under my camera, above the script. It helped me address my anxiety. The vertical positioning kept me from getting distracted. It gave me control to focus my eyes on the audience (camera) while reading my script and monitoring my body language.
And it made me feel much more comfortable because I felt like having another rehearsal.
Final Words
Public speaking in any way is my biggest kryptonite. I never had any confidence in applying to be a speaker. But I learned that it made a big difference when we do it in front of our community and our friends, whom we know would support and cheer us up no matter what.
I don't know if I will ever give another talk in the future, but this talk was one great experience for me ❤.
Also, I accomplished what I initially planned for the CodeNewbie Challenge! 🎉
---
🙏 Thank you notes (in no particular order):
Thank you, Bekah, for encouraging me!
Thank you, Kirk, for being such a great mentor!
Thank you, Suze, for providing me with great tips on technical aspects and for giving me a confidence booster!
Thank you, Sara, for keeping me calm while waiting for my turn to talk!
Thank you to all Virtual Coffee maintainers and volunteers for making this talk happen!
Thank you, Virtual Coffee friends, for all your support!
---
Thank you for reading!
Last, you can find me on Twitter. Let's connect! 😊