Captivating social media captions elicit more engagement. That's right. A great caption stops the scroll. It earns you likes, comments, and shares from raving fans and would-be customers.
Writing relevant captions is also an important factor to get better engagement. Pharma and healthcare business create healthcare oriented captions to post on the HCP engagement platforms. It helps them to get more relevant audience for their businesses.
With Artificial Intelligence, you don't have to rack your brain as much. AI does the job of creating engaging social captions that sound just like a human. Whether it's Instagram, TikTok, Facebook or Pinterest, there's a handy tool for you.
With that, 5 of the best AI-based social caption generator tools include:
Flick AI
ContentStudio
Hootsuite
StoryLab.ai
Copy.ai
Flick AI Caption Generator

The first tool on our list is Flick AI Caption Generator. Flick's promise is to help you write captions for social media "faster than ever before", and that, it certainly does.
Flick is a simple browser-based tool. Thus, it is very easy to use. You can use Flick's AI caption generator to create social captions from scratch. You can also write a caption yourself and ask Flick to rework it.
To use, start by creating a free Flick Social account. To generate a new caption with the AI assistant, you'll be required to input some details, including
A brief description of your post
Your desired caption length. Choose from Standard, One-liner, Short and Long.
A specific type of content you'd like to include in your caption. You may decide to include a List, Anecdote, Quote, Fact or Call to Action.
Tone specifics. Choose from Witty, Luxurious, Authoritative, Analytical, Edgy, Caring, Motivational and more.
Point of view. First, second or third person? Flick AI writes it all.
Social media supported:
TikTok
LinkedIn
X (formerly Twitter)
Instagram
Pricing: Free plan with weekly usage restrictions. Should be all you need. But if you're looking for extra bells and whistles, you can subscribe to Flick's entire social media marketing toolkit. Starts at 11 pounds a month.
ContentStudio

If you're looking for an AI based social caption generator tool, then ContentStudio might be just what you need.
ContentStudio's AI caption generator lets you repurpose long-form content into engaging social posts. Draw social captions from:
Blogs
Web pages
Case studies
The caption generator will automatically add relevant and trending hashtags from the blog URL you submit. This will help you include top-performing hashtags in every social media post with ease.
Social media supported:
Instagram
Tiktok
X (formerly Twitter)
Facebook
Pricing: Sign up and get started for free.
Hootsuite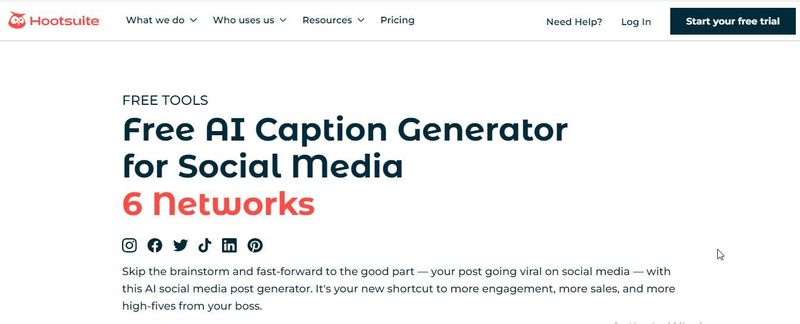 Hootsuite is known for scheduling social media posts for a fee, but did you know it has a free AI caption generator too?
Hootsuite helps you create viral-worthy captions in minutes! It's a browser-based tool that is easy to use.
To make the most of this tool, a couple pieces of information are requested of you. This includes:
Style of content. You can sound grumpy, cheeky, friendly, frank, like a "LinkedIn bro", LA influencer, Cyborg, and more. A very interesting selection I'd say.
Language. Hootsuite AI caption generator supports content in French, Spanish, German, and Italian.
A brief or lengthy description
Keywords
Pricing: Free.
StoryLab.ai

Use generative AI to produce social captions with StoryLab.ai in a matter of seconds. It is also a browser-based tool, and it is very easy to navigate.
All you need to do is:
Select a platform
Provide details about the post. StoryLab suggests you include your company infor, product details, prospect info and more.
Choose a writing style. Pick from Comedic, Sassy, Professional, Persuasive, and more.
Social media supported:
LinkedIn
X (formerly Twitter)
Pinterest
TikTok
Instagram
Facebook
Pricing: Sign up to get started for free.
Copy.ai

Copy.ai's AI-powered caption generator creates captivating Instagram captions. What you need to do is:
Enter details of your post
Choose your tone of voice (friendly, bold, adventurous, relaxed, etc)
Click "create copy"
Browse through the copy ideas
Save captions you like the most
Social media supported:
Pricing: Sign up to get started for free.
Wrap up
There is quite a selection of AI Based Social Caption generator tools to choose from. Choose any from this list and get started creating engaging social copy today.