Jobs in IT have become particularly popular today because of their stability and demand. That said, some people hesitate to enter the industry because they don't know or understand programming languages. However, IT specialists not only programmers, but also specialists who don't write code at all.
Even the most experienced IT professionals started with something simple: video lessons, online courses, problems with solutions, and programming books.
We decided to use a concrete example to break down the most in-demand professions for IT specialists today.
Suppose I am in industry and use the direct sales channel. I had the idea of opening up an online sales channel, and I set up an IT division which will create, develop and promote a website for selling my products.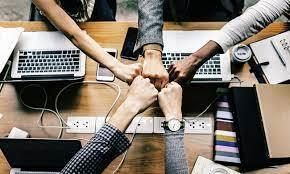 The team will have the following roles:
Product manager - responsible for what our website will be: defining the target audience, building the business model, what functionality should be developed and in what order, working out usage scenarios. He does not write the code because he has no time and there are developers for that. He is primarily responsible for the success of the project. The entry threshold is high, you can learn, but you have to be prepared for the first projects to be unsuccessful.
Business Analyst is responsible for translating the product manager's brilliant ideas into terms of reference for the developers. Develops product requirements, and is responsible for their completeness, integrity and consistency. Coding is not required, but oddly enough, analytical mind, assiduity, punctuality, logical thinking are required. It takes a long time to learn.
Designer is responsible for the user-friendliness of websites and their appearance. User-friendliness comes first, then beauty. The site can be very beautiful, but if the user can not understand how to buy a product, then the designer has done a poor job. Coding is not required, but learning to design is, and not everyone will succeed.
Developer - it's "simple" here - there are layouts of how the site should look, there are requirements for how it should work. All that's left is to program it to work quickly, safely and without errors.
QA specialist - checks the developers' "genius code": whether it meets the requirements, checks that the site works on different devices, in different browsers. He has to make sure that the site can handle the load: what if there is a huge demand for the product, then it's a shame if sales stop because we can't handle a large flow of customer requests. A great way to start your career in IT - the entry threshold is not as high as for other roles and coding skills won't be required in the beginning. But! To become a really good tester, you will need to learn a lot, including coding, if only to automate testing.
System administrators, DevOps - are responsible for deploying the site on the server, automating the development, testing and deployment processes. Once the developers have finished their work, and the testers have confirmed that the next site update can be published to users, the admins step in. Coding will have to be done to make life easier for yourself and to avoid doing a lot of routine manual work.
Support engineer - responds to user queries, helping the client to understand the website. If there is a defect on the site, passes it on to the developers. As an entry point into IT - a good option if you are stress-resistant enough to sit on the front line and take on all the users' wrath. In parallel, you can choose to specialise as a developer, tester or analyst, study and then move into that position.
Technical writer - writes various types of documentation: user manuals, administrator manuals, installation guides, etc. It seems to be like an analyst, writing texts, but the job is completely different. You don't need to code, you need to be able to write documentation so that anyone can quickly find a solution to their problem and not fall asleep on the second page.
Website content and promotion specialists - content manager, contextual advertising specialist and SEO specialist - fill the site with useful information and promote it so that as many people as possible come to buy the product.
As you can see, there are many professions in IT, and most of them do not require coding. But you still have to learn - learn new methodologies, technologies, and subject areas. Skillcombo.com can help you to get on demand skills for your dream job.
The 10-to-18 work mode is not for real IT people. You have to improve yourself all the time, your work has to become your hobby, otherwise you will not become a high-class professional.