Name: Ana
Title: Web Developer
#CNC2022 Cohort: 1
Code More" Goal: Create a schedule to study and practice consistently
Introduction
I've been coding for some years, and I'm interested in leveling up my skills. I signed up for the challenge because I wanted to figure out ways to focus better and clarify my goals. I'm interested in a lot of areas, so part of this process for me would be creating priorities and trying out different weekly plans to see what schedule would work best for me.
---
Mission 1
Our first mission was to write down our general goals, figure out the assumptions that we think would help us achieve those goals, and how to reduce the risks that would hinder our progress.
I've made adjustments throughout the program, but this one has stayed consistent. I love coming back to this as a reminder of the core values I've set out for myself.
---
Mission 2
Our second mission was to identify individual tasks, create weekly goals, and develop a schedule for work sessions.
I picked a block of time in the evening to start working on a Frontend Mentor project. I didn't get as detailed with tasks because I just wanted to start. I aimed to work on the project a few times during the week for at least 20 minutes each session. I found that the weekends seemed to be a more realistic time to dedicate longer sessions, and this has been working for me so far.
---
Mission 3
Our third mission was to evaluate our process and make changes as needed.
One key motivator I've learned through this challenge is to have at least one small task to complete for each work session. If I only have time to complete that one task, then I can feel good about my progress for the day. The time it takes to complete that task isn't as important as staying consistent.
---
Mission 4
Our fourth mission was to return to our goals, review our progress towards those goals, and think about if they are still relevant to us or if we need to revise those goals.
As I am getting more consistent with my work sessions, I am able to get specific on my tasks and goals. Of the courses I wanted to complete, I identified one that was the most relevant to my current projects. I'm working on Conquering Responsive Layouts by Kevin Powell which has been huge help in reviewing CSS and best practices.
---
Sticking to it
I've tried a variety of tools, but the one I've been using to help me stick to my schedule is Google Tasks. Using the Google Tasks mobile app, I've added recurring alerts when I should be starting a task. If I can complete those tasks earlier, then I can check them off sooner and not get the reminder. Keeping things simple like this will allow me to build on the list over time.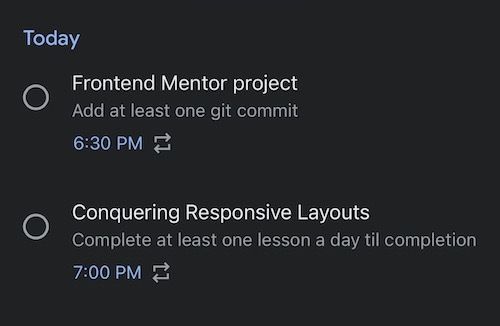 ---
Biggest Challenges
One ongoing challenge for me is finding a new class or new project to work on which sidetracks me from current projects and classes. I want to finish the conquering responsive layouts course by the end of March and then focus on another course for April. I wrote down the classes and projects I want to complete and listed them out by priority. If I find something new, I can re-evaluate my list and see where that new class or project would fit into my plans.
---
Highlights
During the challenge, I completed two Frontend Mentor projects! You can visit my profile to see them. I'm working on my third Frontend Mentor project and plan to complete a few more this year.
Another highlight was connecting with @adrianskar and sharing lots of ideas to keep the Code More momentum going!
---
Overall Reflections
This experience made me slow down and consider my priorities rather than trying to do too much. This helps set the tone for how I will approach my learning and practicing for the rest of the year.
---
What's next for me
I have one new project I'm excited about which will be a collaborative effort. I'm also working on creating better notes and getting back to blogging.
Thanks so much to @codenewbiestaff for putting these challenges together! I may join the next cohort on a different track.
Photo by Christopher Gower on Unsplash