Hey there, CodeLand attendees!
The Microsoft Azure team is really excited to connect with you at this year's event!

Developers like you are essential to driving change and building meaningful experiences in the world today. We want to empower every one of you to do more. Check out our resources to jumpstart your #Code2Cloud journey
Want to keep in touch with the latest Microsoft Developer news and updates? Follow our team here:
---
1. Jumpstart Your Java Journey
here are some resources to help!
| | |
| --- | --- |
| Java For Beginners. Watch the 21-part video series of Java Fundamentals. | Video |
| Java Samples For Beginners. Get hands-on experience with code samples. | Code |
| Learn Java On Azure. Resource collection to continue your Journey! | Collection |
| | |
---
2. Jumpstart Your Python Journey
Three resources to build your Python fundamentals!
---
3A. Jumpstart Your JavaScript Journey
Three resources to build your JavaScript fundamentals!
---
3B. Continue Your Web Development Journey
Three resources to start web development!
---
4. Come to my CodeLand Lightning Talk
My name is Nitya Narasimhan and I'm a Senior Cloud Advocate on the JavaScript Advocacy team at Microsoft. I'll be giving a lightning talk at CodeLand on June 17, 2022 (Day 2) about the 5 steps you can take to jumpstart your developer journey into cloud computing and artificial intelligence, with Azure! And I'll share one thing you can do today to add Azure development to your resume!
Here's a sneak peek at my talk!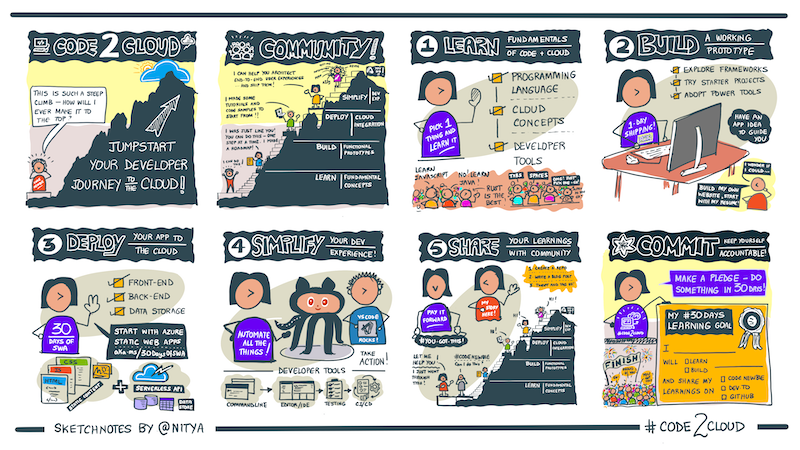 Have questions or feedback? Leave me a comment below
---
5. Jumpstart Your Azure Journey
So - I noticed a few folks asking about resources related to Azure Certifications and learning Azure Fundamentals. So thought I'd add this section, starting with this Visual Guide to Azure Fundamentals. You can download and print a hi-res version or read the blog post for more information.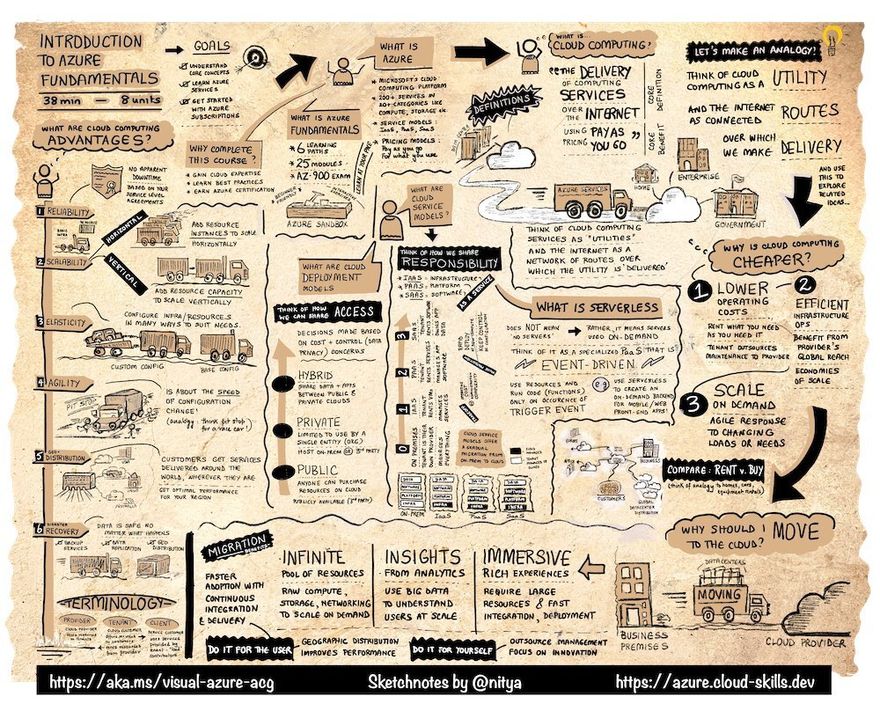 Three resource to explore:
---
6. Let's Chat on DEV!
I am a proud member of the DEV community where I love connecting with a variety of different people about our shared love of coding.
As a tie-in with CodeLand, I just published a few relevant discussion posts on DEV. If you're a member of DEV, I'd love to read your responses to the following topics there…
If you are located in the US engage with us on CodeNewbie or Dev.To and we will send you a redemption code via Discord (Please include Discord handle in post)
From all of us at Microsoft Azure, have a wonderful experience at CodeLand 2022 🌈
---
We'd love to stay in touch with you after CodeLand concludes! If you'd like to stay up to date with everything Microsoft Developer click here. You'll be able to unsubscribe anytime you wish.