Welcome to the "CodeNewbie Community Spotlight" — a series where we interview an individual from our community and highlight all that they've accomplished. We can't wait to celebrate our CodeNewbie community in a new and different way each month!
Pronouns: She/Her
Location: Ohio, USA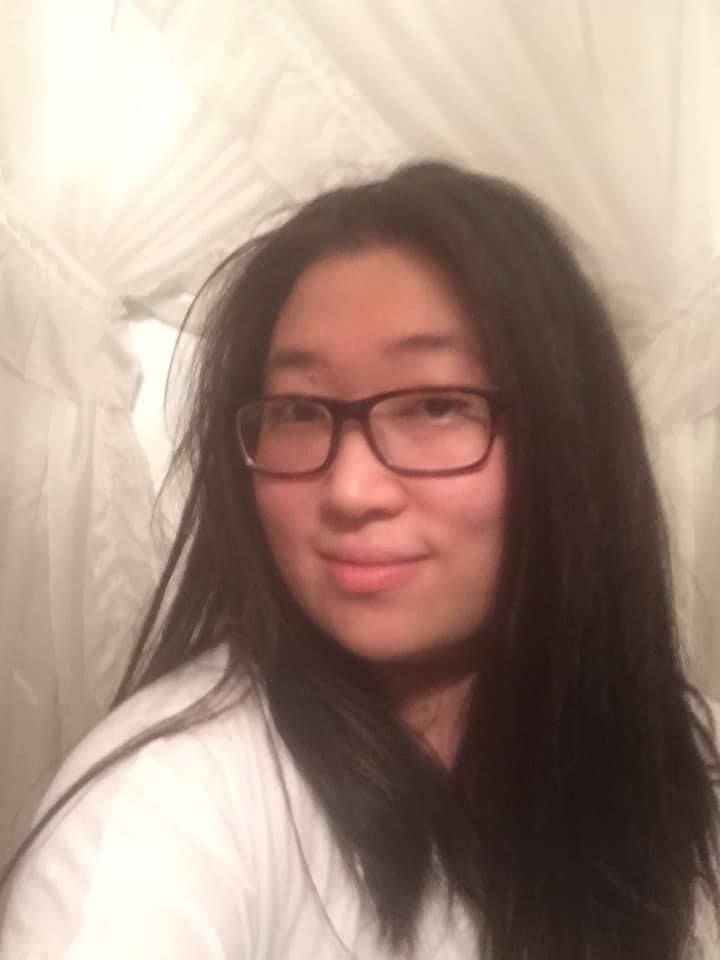 What got you into coding?
Skillcrush! In 2015, I decided teaching wasn't the best fit for me anymore and decided to make a career change into something new. I was doing lots of job searching and getting lots of job rejections so I was very frustrated and feeling very lost. When I was applying for jobs, I discovered a job posting for Skillcrush.
I visited their website and read founder Adda Birnir's story. Adda's story really connected with me since she was describing everything I was experiencing. Her story is what inspired me to sign up for their newsletter.
At that time, Skillcrush sent emails that featured different activities and exercises that people could do. On day three, the exercise was actually writing code. This took me by surprise since I didn't feel ready to write code. I had just started learning some of the important tech terms a day earlier so I couldn't believe I was ready to actually write my first line of code.
Nevertheless, I wrote my first line of code that day. My first line of code wasn't very fancy. It was pretty much "Hello World" on a web page. However, the feeling I got when I saw that line of code appear on the screen made me realize I found what I was missing. After that, I did some research and decided to start learning how to code.
What's your dream role?
My dream role changes quite a lot throughout my coding journey and is constantly evolving. A part of me is going to always want to work at Disney. I'm a big fan of Disney and I'd love a chance to work for Disney in some way. I'd especially love to be one of the front end engineers that works on the Disney Store website. I saw a video in 2016 about the women in tech at Disney and the way the women described the way Disney approaches technology really struck a chord with me.
Today my dream role is a remote software engineer role that primarily focuses on the front end. I want a role that allows me to combine my coding skills with my teaching background so I can create new web apps or improve existing ones so they better meet the needs of users and accomplish more actions quickly. Plus working remotely would allow me to work in places I always wanted to go.
What made you decide to join a community as part of your coding journey?
When I did the Skillcrush web designer blueprint, community was an important part of the entire blueprint. Students weren't just encouraged to help each other and give feedback on projects. We were instead encouraged to celebrate all the successes we had from finishing a project to just understanding a tough concept.
Communities are such an important part of a developer's coding journey. I heard a lot of developers advising newbies to join communities on podcasts or webinars and I can see why they always give this advice. A community isn't just a great way to get an answer to a question or to get advice. It is a place to surround yourself with people just like you or people you want to be like.
I found when I joined coding communities I was meeting like minded people who were in a similar situation I was in. They understood what I was experiencing since they either experienced it themselves or were in a situation like mine once before. Surrounding myself with a good community is what helps me continue coding and it gives me the encouragement I need to take the first steps outside of my comfort zone.
"A community isn't just a great way to get an answer to a question or to get advice. It is a place to surround yourself with people just like you or people you want to be like."
What is something you're particularly proud of?
I am always proud of any speaking opportunities I've had through my coding journey. I'm especially proud of the talk I did for Moms Can Code's first virtual summit. This talk holds a special meaning since it was my first talk I ever did in the tech community.
I was feeling lots of impostor syndrome leading up to the day of the presentation. I was speaking to mothers learning how to code and wanted to make sure I was giving them the right advice to help them with their coding journeys. So I spent weeks working on my notes and getting everything just right so it included everything I could find about my topic as part of my talk. During one of the practice sessions, I chatted with one of the speakers also giving a talk that day and got lots of tips to help me with mine so it could be as good as it possibly could.
This talk was an important learning experience for me. I learned a lot throughout the entire process of putting this talk together. I took what I learned from this experience to help me with my brown bag lunch lesson I would do a couple years later for Lambda School.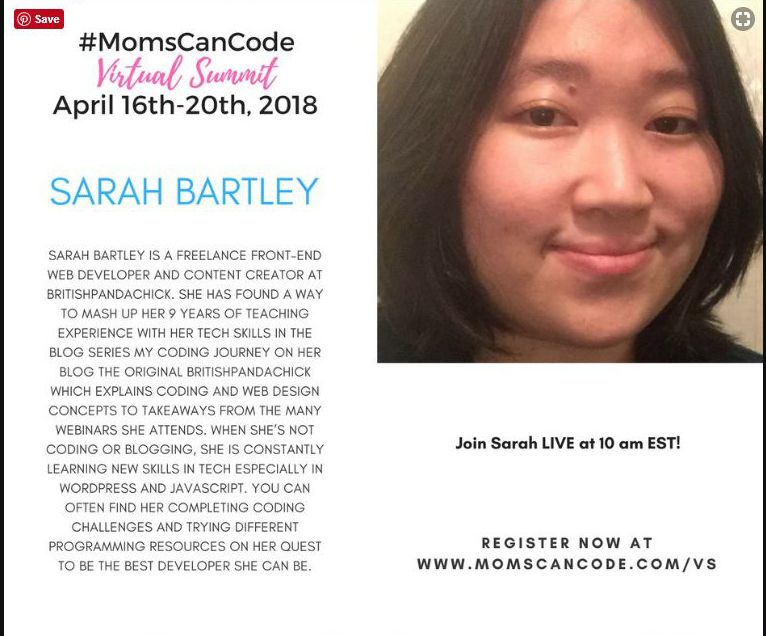 Tell us about a struggle you've overcome.
My biggest struggle has always been confidence. Confidence has always been something I struggled with ever since I was a kid. My younger self was the complete opposite of who I am now. When I was younger, I often stayed within my comfort zone as much as possible and was comparing myself to other people's successes. If you told my younger self I would be speaking at tech events or writing code, she would be completely shocked and wonder if she was hearing about another person.
I always wanted to be confident, but I always felt that there was something missing to help me get there. That all changed when I discovered coding and began learning how to code. Learning how to code didn't just teach me how to build web apps and troubleshoot errors in my code. My coding journey helped me become confident and become the best version of myself I always wanted to be. It completely transformed my life and my mindset in the best way possible.
Thanks to coding, I've become much more comfortable with who I am and self aware of everything I do. This has allowed me to step out of my comfort zone, take chances on things I've always wanted to do, and stop being so hard on myself. I haven't completely overcome my confidence issues. They are still there and pop up from time to time. However, I've gotten better at spotting these moments and addressing them so I don't go back into old habits.
What is one fun fact about you?
I do lots of crafting. I like to do things such as embroidery, felt applique, and cross stitch. I also like to make origami shapes and beaded ornaments. My favorite thing to make are felt applique kits where I am sewing felt pieces on top of each other to create different designs. My Instagram is mostly pictures of all the craft projects I've made and the progress on ones I'm currently working on.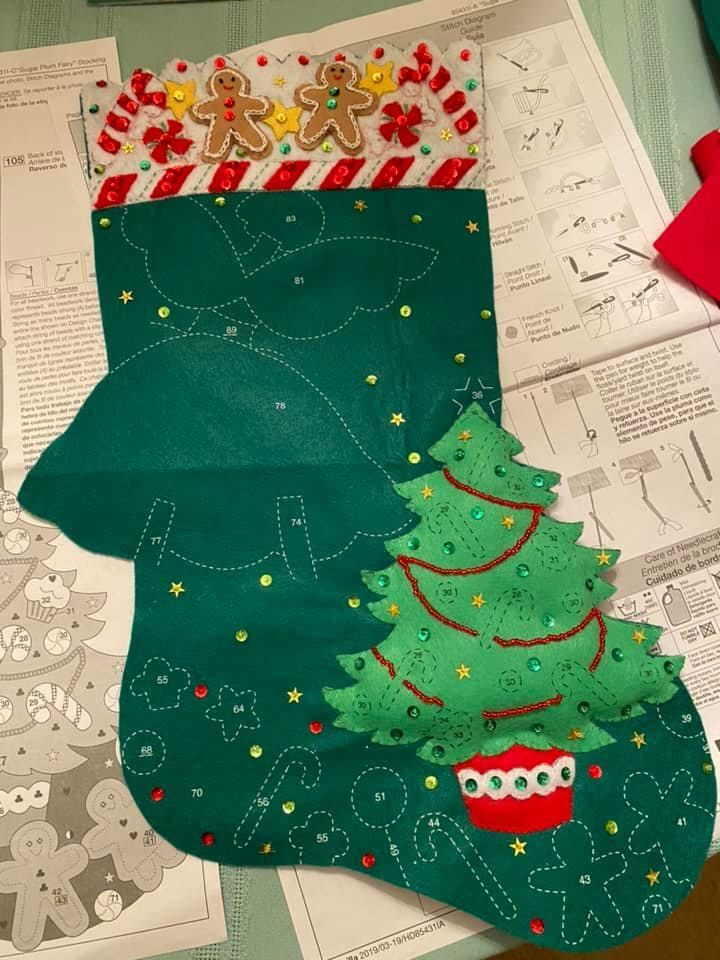 ---
To read more about Sarah's coding journey, you can follow her here on CodeNewbie Community and DEV @theoriginalbpc .
See you next month for another CodeNewbie Community Spotlight! 💚