Happy Summer! 🌈 ☀️
This week was consumed by a lot of troubleshooting and fine-tuning of the layout of the Unplugged Retreat Website, the final project for the Responsive Coding class at Skillcrush.
I wanted to take a moment to discuss my daily schedule!
I work remotely. My job as an insurance specialist for an acupuncture clinic is about 30 hours a week and my contract work as a consumer marketing consultant with Skillcrush runs me at 5-6 hours of projects on a busy week.
I'm also working from a mama's house, my partner's mom's to be specific, bc we can't afford a place of our own in San Diego while I am making this career pivot. I have lived with roommates for 10 years after college to make things work. I'm super grateful she's allowing us to be in her space and spend time with her sweet pets.
I'm grateful for my schedule and remote status, because it allows me to have more balance in my life whilst working and studying. I am a life learner and intend on forever learning new skills. Before this I got ceritified as a Clinical Herbalist, field botanist, and a certificate in holistic nutrition from UCSD Extension for my own edification. Seeing what I can do with my time has made me even more determined to pursue a 4-day work week for my long-term career.
I do a lot of daily self care, in addition to my daily destress activity. I try to get up from my desk every 30 minutes to walk around and stretch and this keeps me focused. I workout every day, generally with lots of stretching and jumping on a trampoline for cardio. I do neck traction bc I sit at a desk all day. I meditate. I love to eat healthy, with occasional indulgences, and make sure to eat regular meals. And my partner and I divide the chores for the house and this is an important form of self care that contributes to my peace of mind by keeping me in a clean and organized space. I have to put in a lot of daily determination to do all of this necessary life maintenance, and I use the app Habitca to make these necessities a little more fun. My partner helps me to cook, works out with me, and she runs our errands for us right now bc she knows I am extra tired while doing work and school, so I'm very lucky. 💗 We read to each other every night as part of our off screen time before bed, and that's basically living the dream for me so there you have it.
In the weeks to come I'll further discuss my study schedule specifically, as well as my program and my study tips and tricks. 😁
Please connect with and reach out to me on LinkedIn I'd love to hear from you!
7/7/22: 2.5 hrs
I used 'git diff' to checkout the difference in my commits for the Unplugged project primarily to find out what I did to make that white space that haunts me. Unfortunately looking between all the most recent commits didn't help me figure it out.
I mostly used today to explore more Advanced CSS thru Skillcrush and do some exercises and quizzes.
CSS selectors exercise
My first CSS grid exercise
My first grid layout columns and rows
I used my bonus independent project time to create my style sheets, link them in, link in the fonts, and background colors for my Front End Mentor project.
🎧 HOUSE-SCAPES TODAY (I didn't really feel like music)
🌺 Destress Acitivities: 📚 Extra reading The Wise Man's Fear by Patrick Rothfuss + 🎮 Hollowknight
7/8/22: 2 hrs
I scoured the Unplugged project again for reasons why the FAQ page had the white space, but no other pages, focusing on the most outer circles of CSS this time but found nothing.
I used this blog linked to me by Front End Mentor to orient myself towards Figma from XD (almost samezies) and worked on that a bit more for half of today. Applied the new CSS selectors I learned yesterday to this project to make styling each card the same way easier.
I learned the repeat, grid-gap, and grid-row and column properties to synthesize everything I've been learning about CSS grid into easier functions. Started practicing with this guided project that starts with starter code.
🎧 Flow Jams: The Algorithm
🌺 Destress Activity: Walk while catching up with my mom over the phone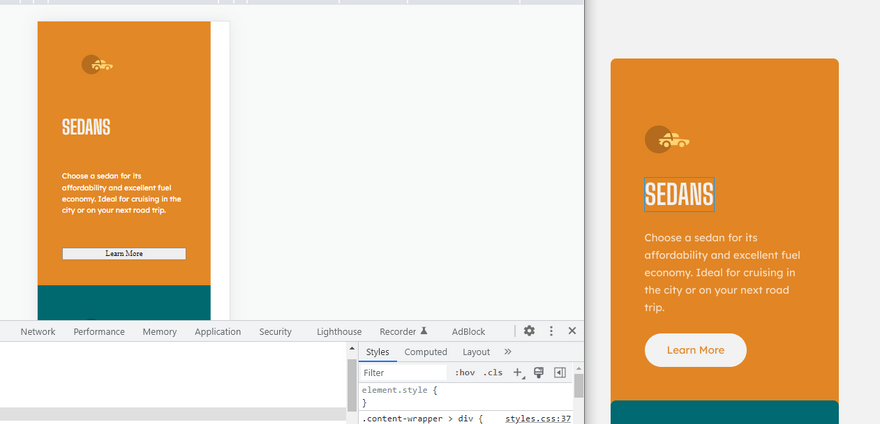 7/8/22 2.5 hrs
So get this y'all: The white space was just Devtools showing me that my content was not filling out all of the space I was asking it to emulate for me for tablets... That's all! I thought it was some fundamental issue with my code that I wanted to resolve before doing final margin/padding tweaks, but it turns out that doing JUST THAT resolved my issue.
Sooo~ I just carried along perfecting the spacing. Was able to finish mobile + tablet and homepage for mobile, but I'll have to come back to the last two pages on Mon. I am so excited to ship this project!!
🎧 Flow Jams: Animals As Leaders
🌺 Destress Activity: 🎮 Hollowknight
7/11/22 3 hrs
Did a last round of comparing my design to the design comps and tweaking, validated the code (more tweaking) and checked on multiple devices (little more tweaking) and finished my first multipage responsive website!!! ⭐ I shipped it, and it felt so good!
🎧 Flow Jams: Cocteau Twins
🌺 Destress Activity: Started to plan a new D&D campaign for my partner and I
7/12/22 Scattered today, not focused time
Now to respond to feedback: Discussed differences between my build and the way the design comp fills-out the page with one of Skillcrush's instructors, and one of her suggestions for me was to link in the normalize.css file we use to cancel out cross-browser default styles, and I was like what do you mean I have always done that..? Turns out my links were all great, but I have never copied by normalize.css document into my CSS folder! There is an automatic margin to the body that's now gone that immediately enables me to match the comp better (and I will now use to check that my normalize.css doc is linked in properly at the beginning!). This has altered quite a few of my applied styles, but it's worth it to go back and remove the excessive amount of 'margin: 0;'s I had applied. I'm using this opportunity to do a last comparison to the final solution code, using some of their spacing as inspiration for mine and continuing to consolidate other rules I repeated. I did mobile today and took some extra time fixing a 'fix' I made to the html that messed up some of my CSS styles in a way that I scoured the CSS for before realizing what I had done. ✌️
🎧 Flow Jams: more Cocteau Twins
🌺 Destress Activity: A nap!